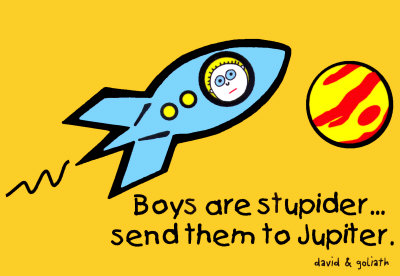 It's all a big joke, I know, right. This slogan and many like it is a product of David and Goliath Tees. Free enterprise. I'm glad for it….the free enterprise, that is. Question is, in an age of "toleration" and banning stigmas at all costs (that is, stigmas of the right kind), there is yet a toleration for this kind of blatant slur against men and boys. Not only is there no outcry, as there would be against slander of any other people group, but apparently there is enough consumer support to keep the men-bashing coming.
This slogan was on a student's folder, included in a pack of folders we received in some school supplies. There it is, meant to be seen, read and pondered every day as "Susie anything-boys-can-do-I-can-do-better" neatly gathers her stack of books while the boy next to her "obviously" is inferior because he can't tolerate sitting in a desk for eight hours a day and so has to be medicated.
Men are the most targeted and hated group that exists. They are open game and no one dares to protest. They "got what's comin' to 'em" after all, right? My Dad recently commented that almost every commercial and sitcom on TV utilizes the public's seemingly favorite past time–"dufus-male-watching".
If we want proverbially castrated men, we'll do it while their young. They won't know the difference by the time they're grown and then they'll fill their "hardly necessary" role as breadwinners and procreators.
Don't be party to the destruction of our men. To destroy a man's self esteem and downplay his masculinity is to treat ourselves with contempt and trample on the precious and unique gift God gave us of complimenting and thereby complementing the opposite sex. I am challenged to swim against the current and edify my boys and men, teaching our girls to do the same.
80 Responses to "Male-Hating Brainwashing Begins Early"
Leave a Reply
Dissenting comments are welcome only in the spirit of "iron sharpening iron"; hateful or angry responses will be removed at my discretion. You may add your gravatar (image) at
Gravatar